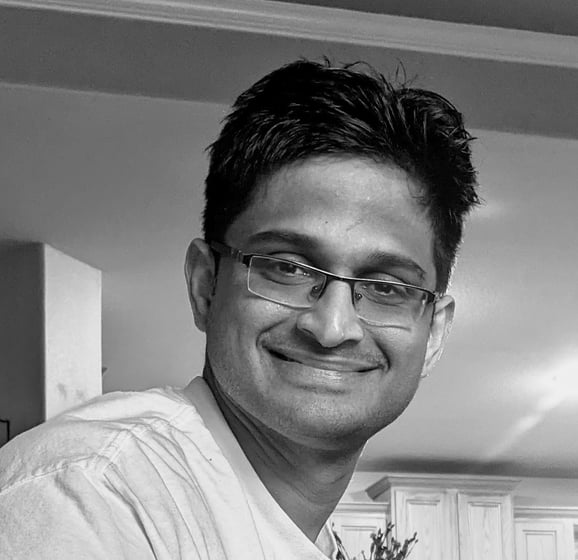 Bharath Chari –
Tech Product Marketing Leader
I am a confessed enthusiast about how Product Marketing plays a crucial role in today's crowded tech and IT market to differentiate your company and your products. A few ways I have learned this (and cut my teeth in the process), is by defining Marketing GTM strategies for data, analytics and AI products and platforms and leading marketing teams at startups, mid-sized companies and enterprises.
Launched Campaigns for Pipe Gen and Brand Awareness
I've helped generate $32M in pipe for Hybrid and Multi-Cloud product portfolios by creating high impact thought leadership content (blogs, whitepapers) and middle/bottom of the funnel assets (demos, presentations, videos) and sales collateral (sales kits, decks and messaging guides). And this was only possible by collaborating with stakeholders both within and outside of Marketing.
Led Teams within Matrixed Orgs
By taking on roles of Chief Marketing Officer, Senior Solutions Marketing Manager and Worldwide Product Marketing leads at different organizations, I have learnt what it takes to work with and lead high-performing remote teams.
Built Customer and Analyst Relationships
I love talking to customers, analysts and highlighting stories to highlight how we solve business and data infrastructure challenges. Again, this requires the power of two-way communication.
Technical Background Combined with Business Strategy
I enjoy breaking down complex technical topics to link it to business goals and make it easily understandable for everyday users. I was a co-host on a podcast focused on technology and strategy.
Chief Marketing Officer @ DataQG
October 2021 - Present

I helped define the Marketing GTM Strategy- including Digital SEO, Content marketing, and partner marketing.
Two of the accomplishments I'm most proud of include growing our community by 200% three months after launch. We also ranked within the top 5 search results for strategic SEO keywords.
Senior Product Marketing Manager, Solutions Marketing @ Confluent
Feb 2021 - Present

I play a very strategic role in defining the solutions-centric approach to Confluent's portfolio and drive cross-functional alignment and execution, by working closely with and leading teams across sales, demand generation, product management and client services teams.
I'm thrilled that I was able to launch MVP content and marketing campaigns for 3 technical use-cases, 6 months after onboarding.
WorldWide Product Marketing Lead, Data Integration and Data Governance Portfolio @ IBM
July 2018 - February 2021

I collaborated with Product Management, Field Marketing and Digital and Campaign to market and launch IBM's Data Integration and Data Governance Portflio.
An artifact of this close collaboration, was the 2019 Lab Sportlight Excellence award, where Marketing was recognized for the first time alongside Engineering and Product teams. We also grew our revenue 15% YoY through customer segmentation, defining the value proposition and GTM strategy.
The University of Texas @ Austin
Masters in Business Administration, 2018
Louisiana State University
Master of Science in Electrical Engineering, 2005
Pragmatic Marketing
Foundations, Market, Launch certifications.
AWS Cloud Practitioner
Demonstrated Cloud fluency and foundational AWS knowledge.
IBM Cloud Pak for Data 2.5x Essentials
Platform and architecture of IBM Cloud Pak for Data,
Anne Ratcliffe
Global IBM MDM Sales Leader
Bharath is a brilliant and driven professional. I had the opportunity to work with him in his roles in Product Marketing and Product Management. Bharath understands the target audience which allowed him to create strategic positioning and messaging that drove demand and product adoption. He supported Sales and created effective client and partner interaction through meetings, virtual user groups, blogs, and podcasts. Across the years I worked with him, he supported new product releases in our MDM SaaS business and in our Data Integration portfolio. His cross-functional work with clients, partners, Sales, and Development contributed significantly to our Hybrid Cloud & Data Integration business. Bharath is a leader who delivers and a joy to work with
.
Kevin Oliver
IBM Program Director
I
t's not often that you come across standout talent like Bharath. He is a high performer and gifted marketing leader who really understands how to get the best out of people. He expertly filled the role of lead Product Marketing Manager for IBM's Data Integration portfolio on my team where he worked with Content marketing, Go to Market and Digital marketing to make a strong contribution to IBM marketing in 2020, developing a lot of unique content and webinars that drove strong results.
He is a creative thinker who seeks out grand challenges and continuously found opportunities to learn and apply new skills strategic to IBM to be successful in his role. He would be an asset to any team and I highly recommend Bharath, if you need to get the job done.
.
I always like to meet Tech professionals. Let's connect.